Update: Ukrainian company Darnitsa signs sublicence agreement with MPP bringing to 36 the number of generic manufacturers to produce generic versions of Pfizer's oral COVID-19 treatment
22 March 2022
Geneva – Following the Medicines Patent Pool (MPP)'s announcement on 17 March 2022, Darnitsa, based in Kyiv, Ukraine, has signed an agreement to manufacture the generic version of Pfizer's oral COVID-19 treatment. This brings the final number of companies to sign a sublicence with MPP to 36 and spans 13 countries. The non-exclusive sublicence allows Darnitsa to produce the finished drug nirmatrelvir co-packaged with ritonavir and supply to 95 low- and middle-income countries, including Ukraine.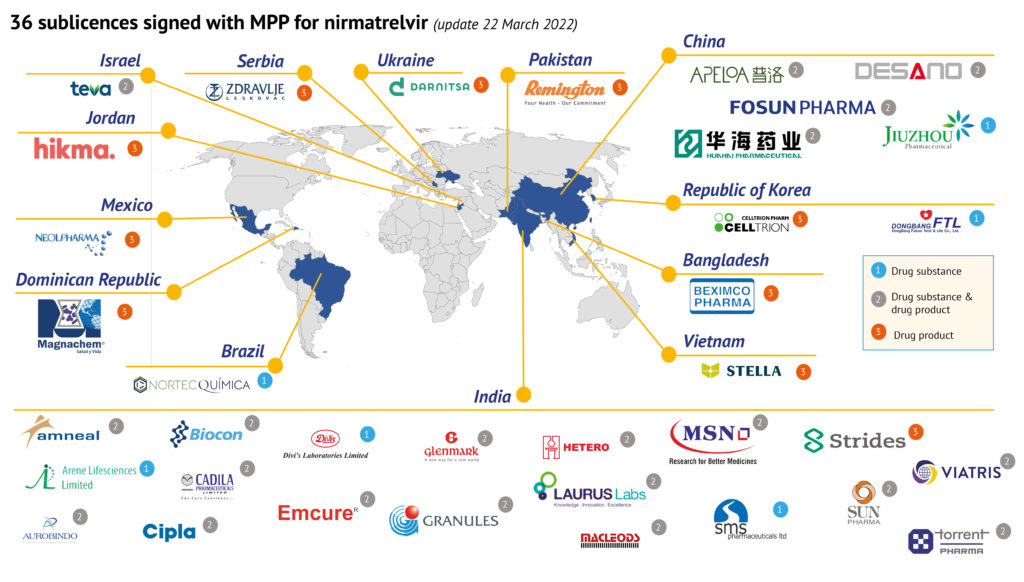 "We are delighted that Darnitsa has felt able to sign a sublicence agreement with us at such a challenging time. This is the first time we have granted a sublicence to a Ukrainian company and is part of our commitment to ensure as wide a geographically dispersed manufacturing base as possible," said Charles Gore, MPP Executive Director. "We will offer what support we can to Darnitsa to ensure that people have access to this important COVID-19 antiviral."
"A powerful and innovative pharma is an extremely important component of the country's national security, especially in the context of the war in Ukraine and the global pandemic. As Ukraine's largest pharmaceutical corporation, "Darnitsa" has created a strategy in partnership with the government and worldwide healthcare leaders to help ensure access to a generic version of the COVID-19 treatment for Ukrainian patients and healthcare professionals as well as for the whole region. We are very grateful to the Ukrainian Ministry of Health for its incredible assistance. We are proud to become MPP partner in Ukraine. We are looking two steps ahead in overcoming any risks of future pandemic in Ukraine," said Dmytro Shymkiv, Executive Chairman, Board of Directors Darnitsa.