The Medicines Patent Pool launches an ambitious three-year strategy for greater access to medicines and health technologies for those in need
30 January 2023
MPP's strategy for 2023-2025 lays out its plans to establish 10 new licences, develop 5 new products, and support 10 technology transfers. By 2025, 30 million people will be accessing MPP-licensed products each year.
Geneva – The Medicines Patent Pool (MPP) today announces its new strategy 2023-2025 to reduce access inequities, by improving the availability and affordability of health products in low- and middle-income countries (LMICs), to facilitate the development of needed formulations for the most vulnerable, and to support the development of diversified and sustainable manufacturing capacity in LMICs.
Today, the fundamental healthcare needs of billions of adults and children are not being met. Adults and children are suffering and dying from treatable conditions because half of the population living in LMICs still cannot access essential medicines and healthcare and millions of people face catastrophic health expenditures that drive them into poverty.
Since its inception in 2010, MPP has seen significant successes that have shaped access through voluntary licensing and which have helped define its new strategy. Having signed 34 licences for various health technologies and facilitated access to 30 billion doses of treatments since 2010, MPP seeks to leverage its unique expertise in negotiating and implementing licensing and technology transfer agreements from a public health perspective to drive access to innovative health technologies that can improve the quality of life of people living in LMICs and reduce avoidable morbidity and mortality.
Through its new strategy, MPP will consolidate recent expansions in areas like non-communicable diseases, maternal health, mRNA vaccines, and biologics, proving that its model can be adapted to new disease areas and more complex technologies. The organisation will also seek to learn from its current activities to strengthen its positioning in the global health architecture, enhance its impact, and plan for its next strategy.
MPP Executive Director Charles Gore said: "This three-year strategy comes at a time when inequities in access have become more apparent than ever and calls for managing intellectual property to better address public health needs have become central to ongoing global health discussions. Through this new strategy, we want to apply our unique expertise in negotiating and implementing licensing and technology transfer agreements to better address public health needs."
Marie-Paule Kieny, the Chair of MPP's Governance Board said: "We cannot and do not expect to achieve our ambitious goals on our own. MPP is, by definition, a collaborative mechanism so to implement our strategy, we will continue to partner with key stakeholders, including longtime strategic partners like Unitaid as well as new ones in the new areas MPP will be operating in. This includes multi-stakeholder partnerships that seek to address access challenges holistically."
MPP's Five Strategic Goals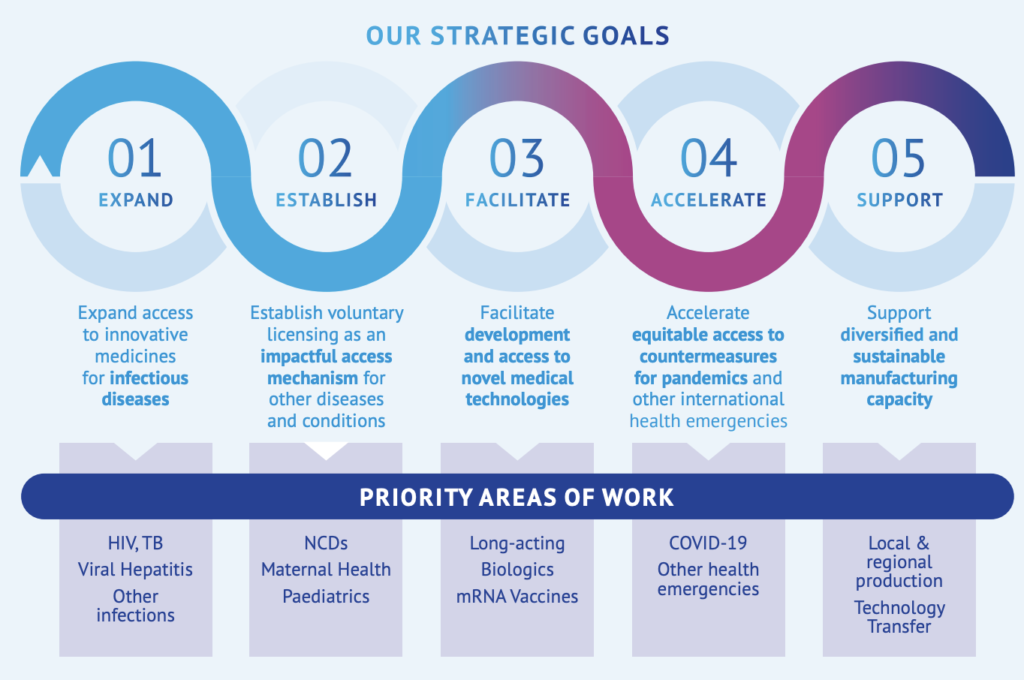 The press release is also available in French and Spanish (translations by MPP).
###
About the Medicines Patent Pool
The Medicines Patent Pool (MPP) is a United Nations-backed public health organisation working to increase access to, and facilitate the development of, life-saving medicines for low- and middle-income countries. Through its innovative business model, MPP partners with civil society, governments, international organisations, industry, patient groups, and other stakeholders, to prioritise and license needed medicines and pool intellectual property to encourage generic manufacture and the development of new formulations. To date, MPP has signed agreements with 18 patent holders for 13 HIV antiretrovirals, one HIV technology platform, three hepatitis C direct-acting antivirals, a tuberculosis treatment, a cancer treatment, four long-acting technologies, three oral antiviral treatments for COVID-19 and 12 COVID-19 technologies. MPP was founded by Unitaid, which continues to be MPP's main funder. MPP's work on access to essential medicines is also funded by the Swiss Agency for Development and Cooperation (SDC). MPP's activities in COVID-19 are undertaken with the financial support of the Japanese Government, the French Ministry for Europe and Foreign Affairs, the German Agency for International Cooperation and SDC. More information at https://medicinespatentpool.org/ and follow us on Twitter, LinkedIn and YouTube.
MPP Media Contact