MPP welcomes findings of 2021 Access to Medicine Index: more pharmaceutical companies include access plans for LMICs
26 January 2021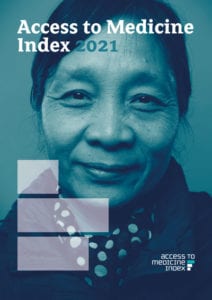 Geneva – The Access to Medicine Foundation issued its biennial Access to Medicine Index today giving high marks to companies that have developed access plans for low- and middle-income countries (LMICs), including some companies that have negotiated licences through the Medicines Patent Pool (MPP). MPP welcomes the positive move from eight companies, with GSK leading the way, for systematically ensuring all R&D projects are paired with plans to increase access in LMICs soon after launch.
"The publication of the Access to Medicines Index has become a major milestone as it is a key tool for measuring progress and an important incentive for ensuring that access is at the core of any new product development project", says Charles Gore, Executive Director of MPP. "We congratulate the efforts of our partners for making access an integral part of their business strategies and contributing to making their products available to everyone, including those living in LMICs, as soon as possible."
One of the key findings is that 68% of the 154 products analysed by the Index have access strategies in place but unfortunately actions to improve access to specific products generally remain focused on a few countries. Measuring the number and breadth of voluntary licences is an important element for assessing progress in efforts to address access to medicines in LMICs and the Index acknowledges that the licences negotiated with MPP contain the most access-enabling terms, such as for example their wide geographical scope and flexibility (non-exclusive, unrestricted) to encourage generic competition and bring prices down.
The Index notes, however, that voluntary licensing remains limited to a handful of products targeting a few diseases, such as HIV and hepatitis C, and draws attention that MPP's mandate is much larger and includes patented medicines on the World Health Organization Model List of Essential Medicines, those with strong potential for future inclusion, and COVID-19 treatments and technologies. The report urges companies to partner with MPP in these areas.
"With half of the population living in LMICs still lacking regular access to essential medicines, especially those needed for treating non-communicable diseases such as cancer, diabetes, respiratory and heart diseases, there is a real need to intensify efforts in order to make universal health coverage a reality by 2030," says Charles Gore. "Voluntary licensing is an efficient mechanism for originator companies willing to contribute to this global goal and we stand ready to discuss partnership opportunities with them."
The Index is an independent biennial ranking of 20 of the world's largest pharmaceutical companies, based on the steps they take to improve access to medicine. It assesses their actions in 106 LMICs and in relation to 82 diseases, conditions and pathogens. The Index is endorsed by more than 100 investors, collectively managing assets, including in the pharmaceutical space, worth more than USD 14 trillion.