World Hepatitis Day 2021: Hepatitis Can't Wait! – Message from Charles Gore, MPP's Executive Director
28 July 2021
At MPP, this is our sentiment exactly 
Where are we today?
Despite recent progress, there is still a long way to go if we want to reach the global goal of viral hepatitis elimination by 2030. According to the World Health Organization (WHO)'s latest report[1],  296 million people live with chronic hepatitis B virus (HBV) infection, and 58 million people live with hepatitis C virus (HCV) infection worldwide and there are some 3 million new infections every year. Critically more than a million people are still dying of almost entirely preventable deaths each year.
People with hepatitis can't wait. We have to go out and find the huge numbers still undiagnosed and offer them the drugs that can save their lives.
Making the drugs available
Thanks to our partners in pharmaceutical companies, here at MPP we currently have three important licences for the treatment of hepatitis C: daclatasvir (DAC), glecaprevir/pibrentasvir (G/P) and ravidasvir and two for hepatitis B, tenofovir disoproxil fumarate (TDF) and tenofovir alafenamide (TAF). Our DAC licence with Bristol Myers Squibb reached a significant milestone at the end of 2020, with one million HCV treatments supplied to low- and middle-income countries (LMICs). Thirty-four countries have been supplied with DAC (30 or 60 mg) standalone or in combination with sofosbuvir (SOF); the newest of these countries include Armenia, Cuba, Ethiopia, Moldova, Philippines, Tajikistan, Tanzania, Timor-Leste, and Turkmenistan. See details in our recently released 2020 Annual Report. But that still means that tens of millions of people living with hepatitis C are waiting to be diagnosed and cured. With just 10% of people with chronic hepatitis B diagnosed, and 22% of those receiving treatment[2], tens of millions of people living with hepatitis B are also waiting to be diagnosed and treated.
We can't wait for more use of the drugs now available through MPP licences
MPP's Impact in hepatitis C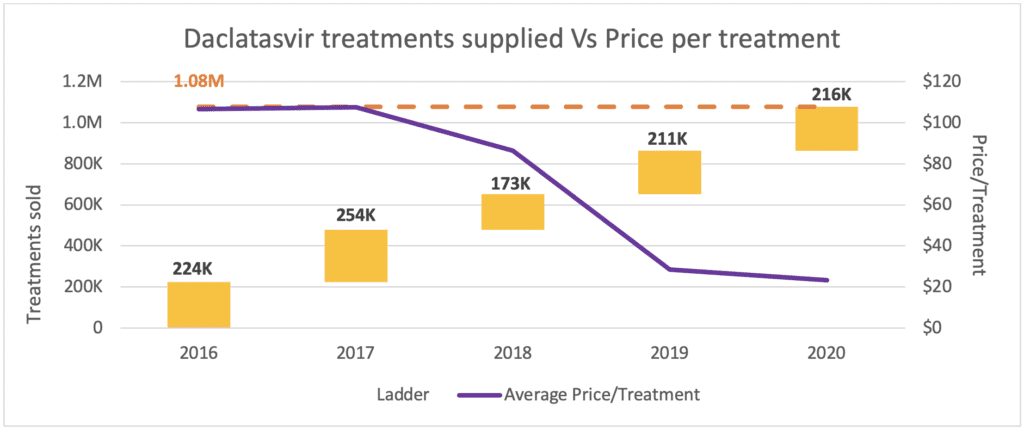 Since 2016 we have seen tremendous price reductions with the curative course of DAC+SOF now costing under USD 100. Treating HCV is now realistically affordable for LMICs, and governments are waking up to the long-term savings and health benefits. During the 74th World Health Assembly in May, MPP hosted a webinar with WHO and Unitaid, where we heard from Rwanda, Ukraine and Pakistan on how they were making strides in their country. One message that resonated loudly is the importance of political will. We see the most promising achievements in countries where governments work hand in glove with civil society, medical authorities, and key stakeholders, such as WHO and MPP, to make diagnostic testing and treatment readily available to those in need.
We can't wait for more LMICs to launch their hepatitis programmes and learn from the success of others
Looking ahead at treatment
Another important licence for MPP is AbbVie's glecaprevir/pibrentasvir (G/P). Unlike other treatments that last three months, G/P is an eight-week treatment that WHO recommends for naïve non-cirrhotic patients. Although the generic medicines are not on the market through our licence yet, they are in development so that LMICs will be able to benefit from quality, affordable access soon. Looking ahead at future innovations, G/P may even be one of the first HCV treatments to be available in a single shot long-acting formulation. At MPP, we are following closely these important developments with our partnership in long-acting therapeutics.
We can't wait for innovation to lead to simplified hepatitis treatments
MPP, the health professionals and the patients
My own long battle with hepatitis C, and the advocate I have become as a result, means I am fully aware of the needs of people living with viral hepatitis and those working to serve them. Behind every person accessing treatment is a life and a story. Today, I am pleased to share with you two short videos. The first is Simon Beddoe's story from India. After overcoming many hurdles in his home country, Simon received a three-month curative treatment of SOF+DAC. The second is from Ukraine and was filmed just before lockdown in early 2020 when we met Prof. Olga Golubovskaya in her office at Bogomolets National Medical University, Kyiv. Over the years, I have worked closely with Professor Golubovskaya who has been instrumental in access to hepatitis treatments in Ukraine. Kateryna Chepilko works as an assistant and will take you on a visit to the hospital and her ward, where she works tirelessly to ensure those in her care receive the treatment they need.
We can't wait for more lifesaving hepatitis treatments to be supplied to people who need it
MPP stands with all those who today mark World Hepatitis Day 2021: with a person dying every 30 seconds from a hepatitis related illness – even in the current COVID-19 crisis – we can't wait to act on viral hepatitis.
---
[1],[2] Global progress report on HIV, viral hepatitis and sexually transmitted infections, 2021, World Health Organization